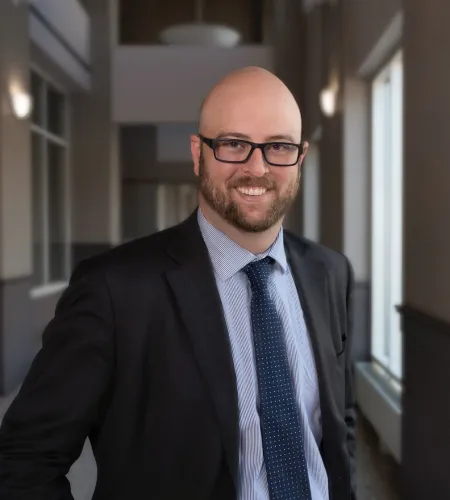 Casey Kane
Criminal Defense Lawyer
Casey Kane, a long-time prosecutor, and experienced trial attorney started his legal career by graduating from Winona State University with a degree in Legal Studies. Casey then received his law degree from the Appalachian School of Law where he graduated inside the top ten in his class and with honors. Casey received numerous awards during his academic career including the 2014 Trial Advocacy Award from the Virginia Trial Lawyers Association for his jury trial abilities.

Casey, a Wisconsin native, went to college in Minnesota where he met his wife who he has been married to for ten years. Casey started his legal career as an associate for Speights and Worrich, a Plaintiff's firm specializing in civil litigation. Due to his talent and love for the courtroom, Casey became a prosecutor serving as a deputy district attorney in Colorado's busiest jurisdiction and prosecuted everything from low level DUIs to Murders.

As an experienced prosecutor, Casey not only excelled in the areas of Domestic Violence and DUIs, but also, homicides, robberies, burglaries, drug cases, and the gambit of domestic violence charges. In addition, Casey was a member of the Major Crash Team (MCT), a specialized unit reserved for experienced prosecutors trusted with the ability to handle the complex areas of vehicle homicides and vehicle assaults.

Because of these skills, Casey has a unique ability to analyze a case from the government's point of view and know not only the government's strengths but most importantly weaknesses in the government's case. Those skills will help you understand the confusing criminal process. Casey understands that each person charged with a crime is unique and he will advocate for those unique set of circumstances and make sure that you are zealously protected. Casey left the District Attorney's office with the goal helping those who unfortunately find themselves back in the courtroom, or those who find themselves with the daunting reality of having to see the courtroom for the very first time.